"Jill's massages are amazing. Cured a chronic headache I'd had for weeks."

Eileen M.
I am currently based in Essaouira, offering massage as one of my services.
I started my studies with somatics, which combines an experiential anatomical and physiological approach with therapeutic movement and touch, weekly from 2005-2008 with Deborah Jinza-Thayer in Minneapolis, USA.
In 2014-2015 in Rishikesh, India, I studied and gave full-body massage that included multiple massage techniques, which I typically summarize as mostly Ayurvedic and Swedish (and Indian head massage!).
I then studied foot reflexology in Bali, Indonesia in 2015 and worked that into my full-body massage. I have also learned lymphatic, acupressure, and Thai techniques. After using some deep tissue techniques for a while now (from that super-blend I learned in India), I studied it formally to bring more goodness into the mix!
What does this all mean?
I offer deep, muscular work, or I can focus on detoxification, simple relaxation, and through the feet and various pressure points, access organs.
I prefer to feel what's needed per person and am honored to take people deeper into awareness, and unwinding tension, through their bodies and minds.
Massage time slots are limited! Book well in advance.
45-minute Foot Reflexology (finished with Shoulders/Neck/Head)
45-minute Back/Neck/Shoulders (Swedish & Deep Tissue with oil)
90-minute full-body massage (Swedish, Deep Tissue, and Reflexology with oil)
90-minute Yoga & Massage (combination of any yoga & massage type)
120-minute Yoga & Massage
Where do you receive massage?
I'm a five-minute walk from Aswak Assalam in Ghazoua, easily accessible by bus or grand taxi if preferred.
If you have appropriate space for yoga and/or massage in Essaouira add 50dh service fee.
For more details and to schedule, Whatsapp +212.643.531.583 for faster response or email well in advance at info@jyllin.com.
I hope to see you soon!
🙏🏾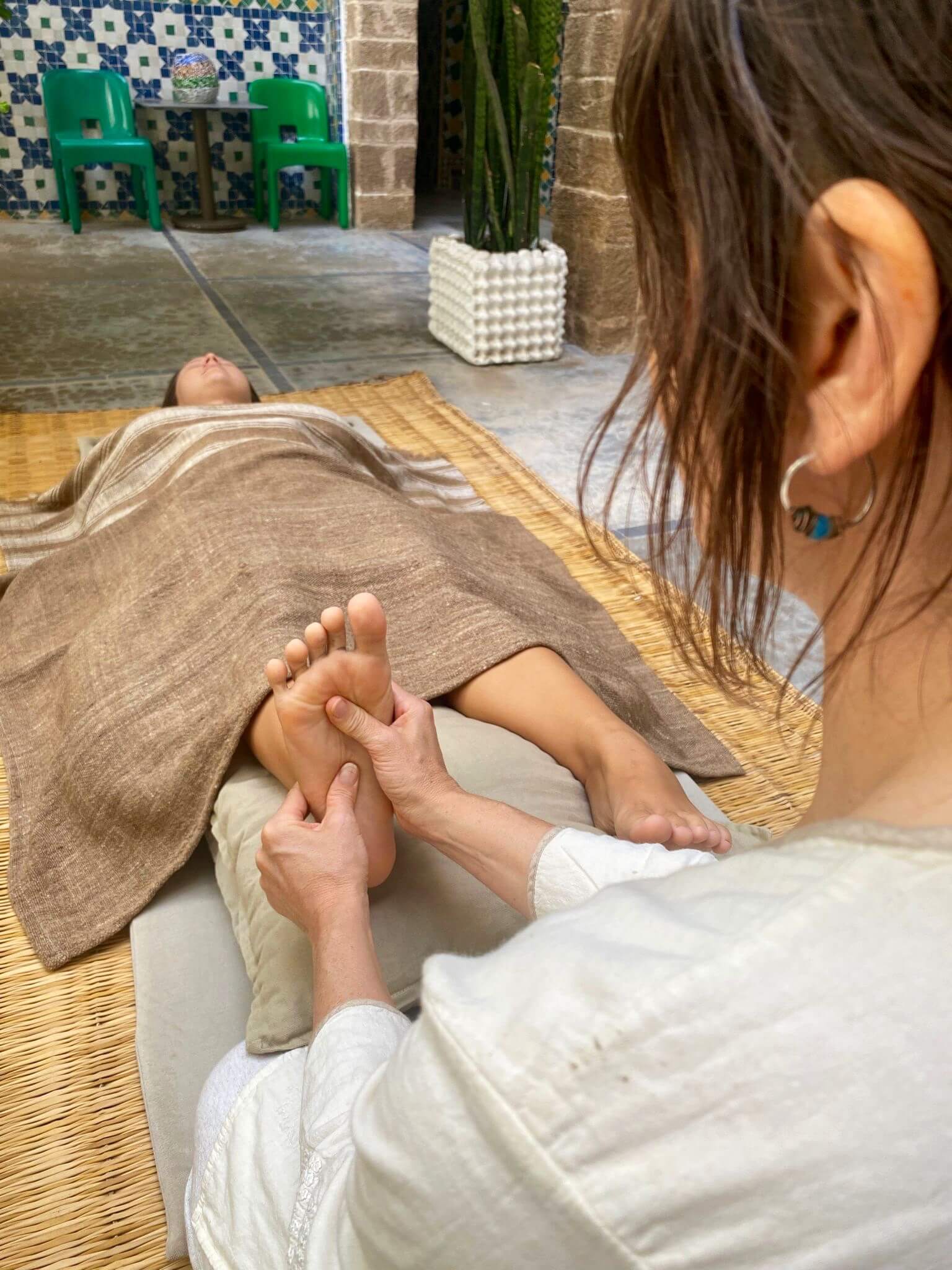 "Last night the lovely gentle Jill came to my riad and gave me the most beautiful and skilled massage of my life. She was so present, so connected and at the same time professional and boundaried. I highly recommend her services."

Jackie C.
Jyllin is an integrative health coach and creator of the Holistic Liberation Method that releases deeply engrained limitations by cultivating holistic healthcare into the fabric of daily life. Learn more about Jyllin and The Holistic Liberation Programs.